Although Amethyst can be found in several places in Queensland, some of the finer quality crystals come from near Mt.Isa in the northwest of the state. This mineral rich region is a popular fossicking destination which boasts a wide range of minerals to be found. On a trip passing through this region some years ago, I was fortunate to visit a popular Amethyst collecting location, known for it's well-formed Amethyst crystals.
There are many shallow diggings and small tunnels scattered around the hills and Amethyst of varying quality and size can be found in many of them. After many hours of moving rubble and rocks in one of the old diggings, I finally could see the fresh glint of purple Amethyst showing in the clay and began to find small, thumb-sized crystals of decent colour. The afternoon light was fading and I decided to resume collecting the next day.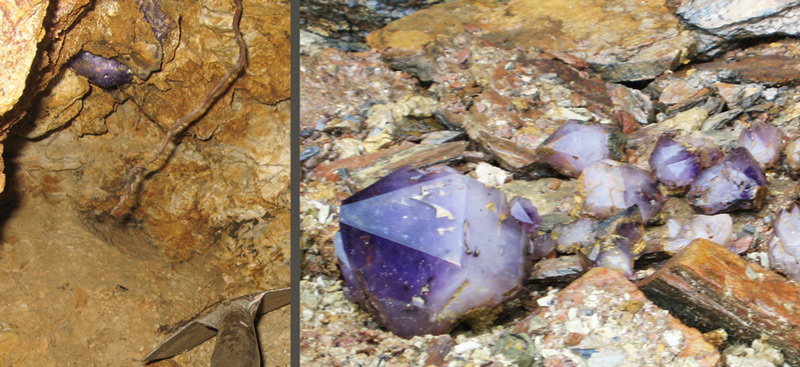 That night it began raining and by the morning the usual sunny Australian outback was transformed into a dull landscape of gray skies and dark rocks. The rain however, had made digging a little easier. The Amethyst crystals are found in a hard, compact clay and the rain overnight had softened this clay, making it much easier to dig out these crystals. Gradually the crystals that I was finding got larger in size and soon I had exposed a large side of a crystal with beautiful dark purple colour. As I carefully removed the clay around the crystal, it just kept getting larger and larger, like nothing I'd seen before from this area. An hour later and I'd managed to get it out, a truly remarkable Australian Amethyst crystal that I'll treasure always.